Proven triple-action joint supplement for dogs who are stiff or getting older.
YuMOVE Dog's premium, natural formula makes a tail-wagging difference for stiff and older dogs in 3 ways. This premium joint supplement for dogs soothes stiffness, safeguards long-term joint health and promotes mobility. It's proven to work in just 6 weeks*, thanks to ingredients like the world's top strength, cold-extracted ActivEase ® Green Lipped Mussel and Glucosamine for dogs.
Aids stiff joints
Supports joint structure
Promotes mobility
Clinically proven
The UK's #1 veterinary joint supplement*
5 signs that your dog may need joint support

Is your dog starting to lag behind on walks?
Are they more reluctant to walk, jump and play?
Is your dog sleeping more?
Do they seem stiff or have trouble getting up after a rest?
Are they looking uncomfortable
These can be signs that your dog's joints need the extra support YuMOVE Dog provides.

How does YuMOVE Dog support your dog's joints?
YuMOVE Dog is packed with the finest quality active ingredients, including our very special ActivEase ® Green Lipped Mussel and Glucosamine for dogs. It's safe and natural, tasty too (so easy to feed), and works in three ways.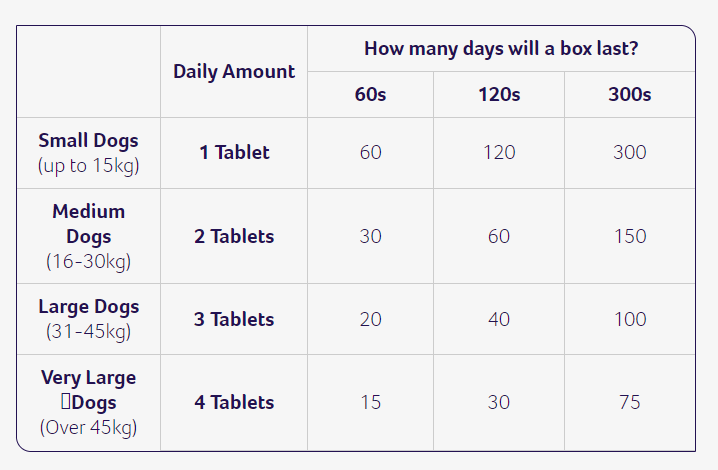 Start With Double

If your dog hasn't taken a Glucosamine supplement before, it is likely that their natural reserves have been run down. So when you start feeding YuMOVE Dog, double the recommended amount for 4-6 weeks. This 'loading' time will replace their lost reserves and get them back on track to better mobility and comfort.

Spread Out Their Tablets

If your dog is taking more than 1 YuMOVE Dog tablet a day we would recommend to spread the ration out throughout the day.
250mg Glucosamine HCl
150mg Green Lipped Mussel (containing natural Chondroitin)
12.5mg Vitamin C
3mg Manganese
1.5mg Hyaluronic Acid
0.5mg Vitamin E
Using YuMOVE Dog every day helps to maintain your dog's joint health and provides all round support.