How does YuMOVE ADVANCE 360 support your dog's joints?

For the support of the metabolism of joints in the case of osteoarthritis.

Only available to buy directly from your veterinary practice.

YuMOVE ADVANCE for Dogs is proven to work in just 6 weeks, thanks to ingredients like the world's top strength, cold vacuum extracted ActivEase™ Green Lipped Mussel.
Aids the body's own anti-inflammatory process
Aids stiff joints
Supports joint structure
Promotes mobility
AIDS STIFF JOINTS
YuMOVE ADVANCE for Dogs contains the highest strength extract of Green Lipped Mussel (Perna canaliculus) to soothe stiff joints. Our ActivEase™ Green Lipped Mussel (GLM) contains three Omega 3s, EPA and DHA (found in many fish oils) and ETA (only found in ActivEase™ GLM) to aid the body's own anti-inflammatory process.

ActivEase™ Green Lipped Mussel
Only Lintbells products include our unique ActivEase™ Green Lipped Mussel. It's one of the key ingredients in the YuMOVE range, and is sourced from specially selected crystal clear bays in New Zealand. Because of the specific growing conditions and unique cold vacuum extraction of Green Lipped Mussel, YuMOVE ADVANCE for Dogs provides significantly higher levels of Omega 3 ETA – 4 x stronger than standard versions.
SUPPORTS JOINT STRUCTURE
Glucosamine HCl & Chondroitin Sulphate
YuMOVE ADVANCE for Dogs uses high purity Glucosamine HCl and Chondroitin Sulphate. Most products add a single source of Chondroitin Sulphate from either a bovine or marine source. YuMOVE ADVANCE for Dogs contains both Chondroitin-4 and Chondroitin-6 Sulphate sourced from ActivEase™ Green Lipped Mussel to provide structural support to the joint. These components provide the building blocks for cartilage synthesis enabling maintenance of joint structure.

N-acetyl-D-glucosamine
N-acetyl-D-glucosamine is a primary building block of the structural matrix of connective tissue in joints. It is a key precursor to glycosaminoglycan (GAG) production in the joint, and forms a core part of the structure of Hyaluronic Acid, supporting synovial fluid function.

Manganese Manganese
is a necessary co-factor for GAG and collagen synthesis and if deficient, collagen fibres cannot be cross linked, which greatly decreases the tensile strength of the fibres.
PROMOTES MOBILITY
Hyaluronic Acid
A principle component of the synovial fluid, Hyaluronic Acid is normally produced from Glycosaminoglycan precursors internally. However, a study by Balogh et al 3 has demonstrated that oral administration of a specific form of Hyaluronic Acid can be shown to accumulate in key areas in the body including the joints and vertebrae within 2 hours of consumption.

Vitamins C & E
Vitamins C & E are included to provide antioxidant activity against free radicals produced during exercise.

YuMOVE ADVANCE for Dogs also contains added Beta Glucans to support gut function and absorption.
If your client's dog is using YuMOVE ADVANCE for Dogs for the first time we suggest you recommend double the daily amount for the first 4-6 weeks.

YuMOVE ADVANCE for Dogs is available in packs of 60 tablets and 120 tablets.

Priced to make YuMOVE ADVANCE for Dogs more affordable to a wider range of clients so more can purchase a joint supplement they can trust from their veterinary practice.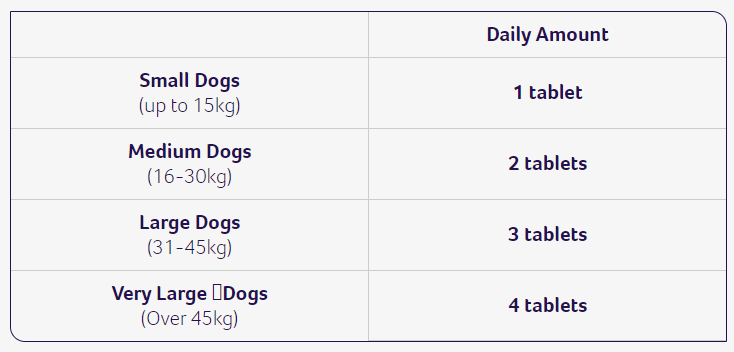 Each tablet provides

250mg Glucosamine HCl
180mg ActivEase™ Green Lipped Mussel* (containing natural Chondroitin)
125mg Beta Glucans
25mg N-acetyl-D-glucosamine
2.5mg Hyaluronic Acid
3mg Manganese
12.5mg Vitamin C
0.5mg Vitamin E