The Nina Ottosson by Outward Hound Interactive Dog Hide N' Slide puzzle game is a fun way to engage your dog's mind and activate their problem solving-skills. This level 2 intermediate puzzle dog toy comes with two types of hiding spots for snacks or kibble for a total of 14 treat compartments: under the swivelling flippers and in the hollow sliding blocks. You can vary the difficulty level by placing treats just under the flipper for newcomers. And once your dog gets the hang of it, you can increase the challenge by placing the treats in the hollow block, and watching your dog try to figure out how to slide it back and forth to release the treat into the flipper compartment. Made from food safe materials that are BPA, PVC and phthalate-free so you can feel safe playing with your dog over and over again! Easy to clean with warm water and soap.

intermediate level fun:
The Dog Hide N' Slide level 2 intermediate dog puzzle is a fun hide-and-seek challenge that requires your pup to learn how combined actions lead to a tasty reward! Great for dogs who have mastered level 1 puzzles.
challenge your dog's mind:
The Dog Hide N' Slide is an interactive treat puzzle game that works your dog's mind while reducing boredom and destructive behavior. Swivel to hide treats under the flippers or place them in the blocks through the top opening for an added challenge! Your pup will need to take sequential steps to release the final rewards!
non-removable parts & durable composite wood design:
Made with a non-slip base and a unique plastic and wood composite, the Dog Hide N' Slide is a game that is built to last for hours and hours of fun! Train your pup not to chew on the toy by removing it after the treats have been eaten. Non-removable parts make it a safe and easy to clean choice.
bpa, pvc & phthalate-free:
Nina Ottosson by Outward Hound interactive treat dog puzzles are designed with your pet's health in mind from food safe materials that you can trust with your dog. Easy to clean with warm water and soap between uses.
play it safe:
No toy is indestructible. Do not leave toys with unsupervised pets. Remove and replace toy if damaged.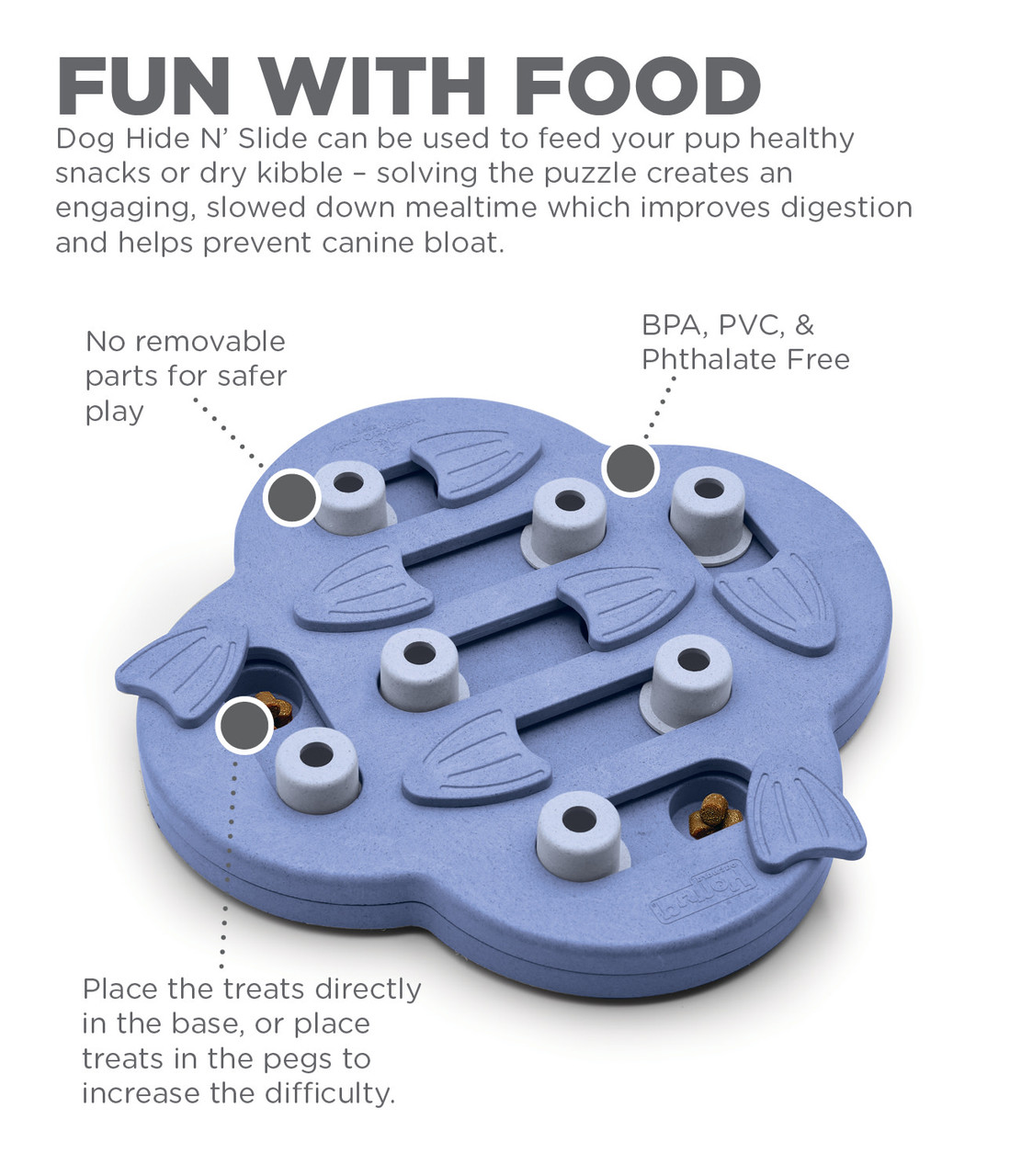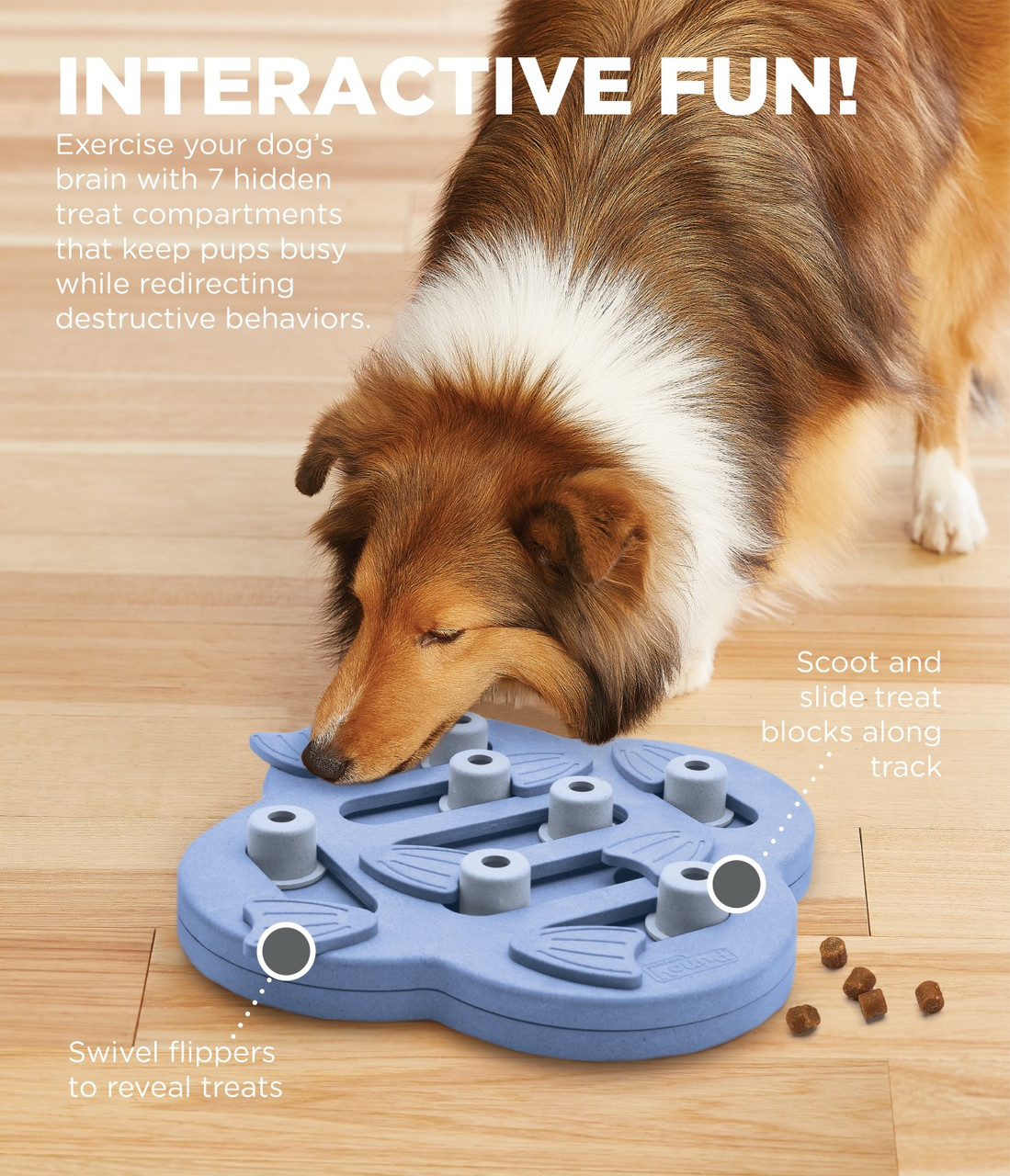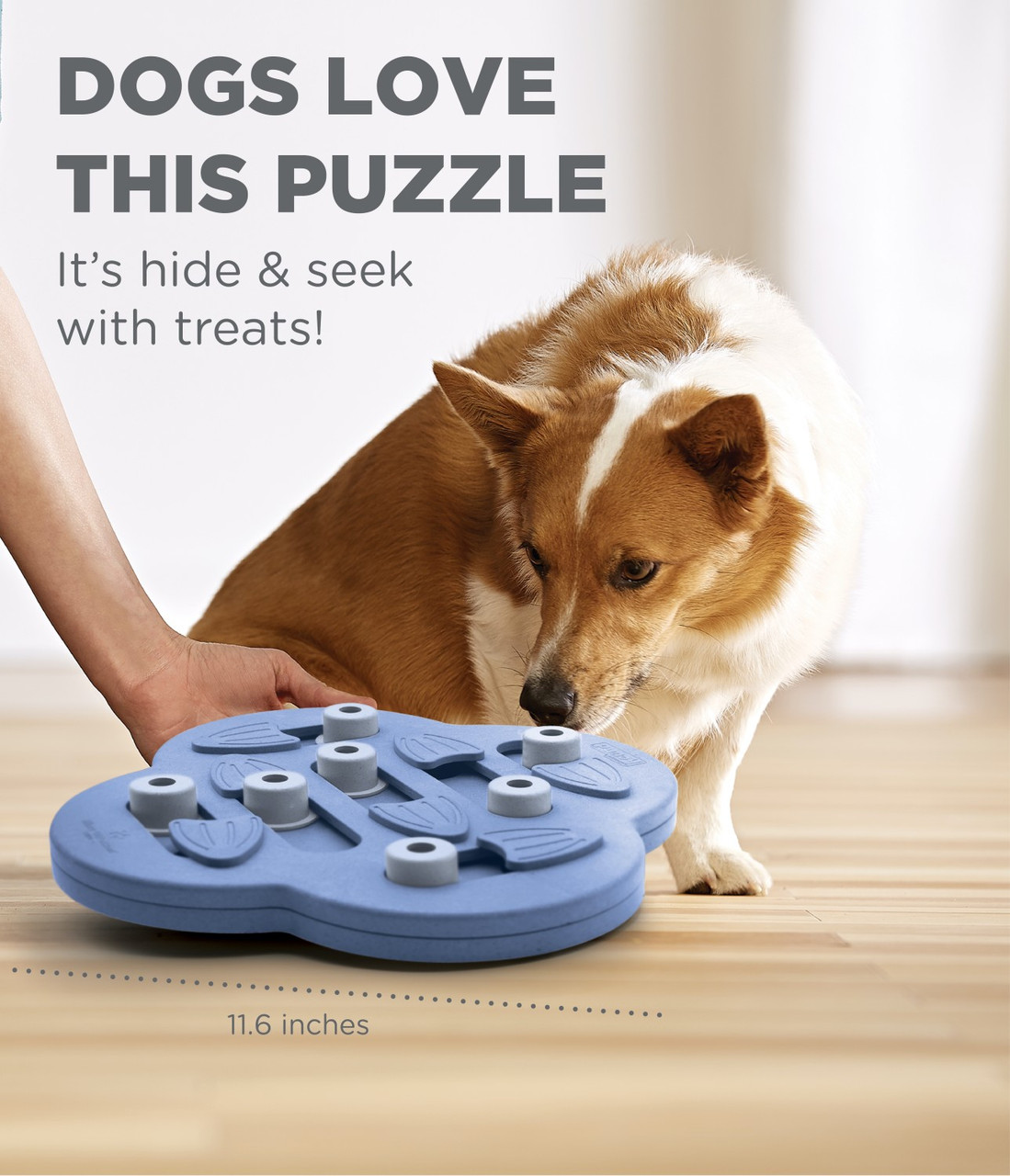 Size: One-Size

Color: Purple

Dims: 2" H x 11.6" L x 11.6" W
SAFETY AND CARE:
ALWAYS SUPERVISE your dog closely, teach your dog how the game works. Do not leave your dog alone with a treat puzzle, do not let your dog chew on the game or pieces. Inspect for damage and remove if broken. For dogs only, not a children's toy. When empty, store until next supervised use.